JKMP (Jurnal Kebijakan dan Manajemen Publik)
View Journal | Current Issue | Register
KANAL: Jurnal Ilmu Komunikasi
This journal aimed at communication the results of research of professor, teachers, practitioners and scientists in the field in Communication Science.
Readers targetted by this journal are professors, students, teachers, in Communication Science.
Articles to be published on Kanal : Jurnal Ilmu Komunikasi should follow the focus and scope of this journal. The article must have been edited according to the journal author guidelines before submitting.
The scope of this journal are :


Interpersonal Communication.


Mass Communication.


Politics Communication.


Development Communication.


Communication Media.


Culture Communication.


Business Communication.


Public Relation.


Journalism.


If you have trouble submitting the manuscript. Feel Free to contact kanal@umsida.ac.id
View Journal | Current Issue | Register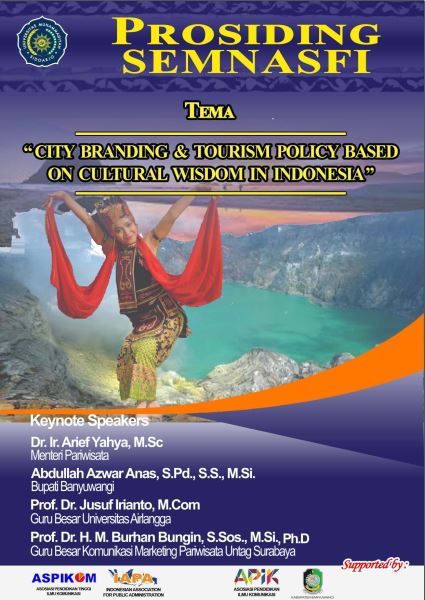 Prosiding Semnasfi
Penetapan target pendapatan domestik bruto (PDB) sebesar dua kali lipat di sektor pariwisata hingga tahun 2019 oleh pemerintah pusat menjadi sorotan dan bahan diskusi oleh banyak pihak baik dari mayarakat, akademisi, swasta, maupun pemerintah daerah. Target tersebut bisa saja menjadi sebuah keniscayaan  sebab sektor pariwisata inilah sesunguhnya lapangan pekerjaan baru (pro-job) terciptakan. Kecuali itu,  sektor pariwisata juga mampu mengentaskan kemiskinan di daerah (pro-poor), melestarikan lingkungan hidup (pro-enviroment), dan pro-growth. Pendek kata "semakin dilestarikan, semakin menyejahterakan."
Namun demikian konsep tersebut tidak  akan bermakna sama sekali bila pemerintah dan pemangku kepentingan tidak berupaya secara bersama-sama untuk berinvestasi dan membangun daerahnya yang memiliki potensi wisata serta tidak adanya kebijakan yang menopangnya. Dalam beberapa kajian memperlihatkan bahwa pemerintah memiliki peran yang signifikan dalam upaya pengembangan pariwisata secara berkelanjutan.  Artinya, pemerintah daerah dengan kapasitasnya secara bersama-sama dengan masyarakat dan pemangku kepentingan dapat membangun dan mengembangkan kualitas kepariwisataan secara berkelanjutan dan menyejahterakan.
Untuk itu, Fakultas Ilmu Sosial dan Ilmu Politik Universitas Muhammadiyah Sidoarjo menyelenggarakan acara seminar nasionaldan call for paper ini dengan tema "City Branding & Tourism Policy Based on Cultural Wisdom in Indonesia".Hasildarikajiandalamsemnasfitersebutakandibukukandalamprosidingsemnasfitahun 2017 sebagaibentukpublikasidariartikelilmiah. Beberapa sub temadalamsemnasfidiantaranya: peran public relations korporat, pemerintah, dan masyarakat; integrated marketing strategy destinasi pariwisata;marketing public relations dalam pariwisata; komodifikasi pariwisata;strategi destination branding; peran media massa dalam menunjang industri pariwisata daerah; teknologi komunikasi, media baru, dan media alternatif dalam pengembangan pariwisata daerah;kebijakan strategis pariwisata berkelanjutan; pemberdayaan masyarakat di destinasi pariwisata; pariwisata dalam konteks kearifan lokal; inovasi birokrasi dalam pengembangan pariwisata daerah; serta dampak sosial ekonomi industri pariwisata daerah.